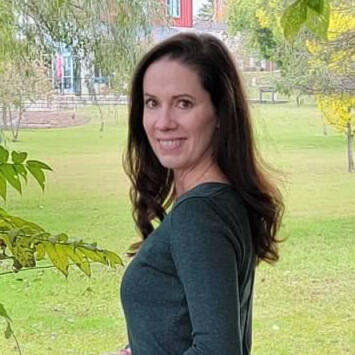 Author
Alexandra Grace
Writing heartwarming, sweet with heat stories about broken veterans and their journey to find peace, purpose, and their happy ever after.Available Now: Books 1-3 of The Journey Series (Jackson's story) and the prequel novella (Sydney & Will's story). See below for blurbs and links.Book 4, A Journey Beyond, is coming 9/29/23.
Books 1-3 of THE JOURNEY SERIES is a heartwarming story about a veteran rising out of darkness after losing almost everything he holds dear. The journey is hard. TRIGGER WARNING: There will be hardships, pain, heartbreak, and raw emotions (potential trigger warning: open door romance, coarse language, suicide, PTSD, loss, rape, verbal abuse, and violence). But there is even more inspiration, hope, sweetness, perseverance, friendships, unbreakable bonds, and unconditional love.
BOOK 1
A Journey Spared
Finding a new path can be difficult when the darkness threatens to swallow you.When Jackson Vane and his three best friends joined the U.S. Marines after high school, he had big dreams. Not only did the service take him far away from his father and the city he refused to call home, it also gave him endless opportunities to see the world. But he never dreamed that eight years would be all he'd get. Now, he's being shipped back to Richmond, Virginia with nothing to his name but shattered dreams, a useless medal, two broken legs, and a devastated heart.While his injuries hold him captive in his childhood home, Jackson has a new war to fight. He must come to terms with survivor's guilt, figure out who he is now, and most daunting of all, learn how to heal.Jackson's journey continues in book 2 and concludes in book 3.
BOOK 2
A Journey To Love
Sometimes running will only take you so far.When Jackson Vane took off on an 865-mile journey, he sought to understand why he was spared in the explosion when so many of his fellow Marines didn't make it home. Mid-quest, the memories he spent years locking away resurface. Each day is a new battle, a struggle to keep moving forward through the consuming darkness. He's never quit, but failure seems imminent.At his breaking point, his path crosses with Emily's, and she becomes his guiding light--his reason for taking the next step. Being with her promises peace, love, and a future he can believe in. But when her past threatens to take it all away, he must overcome both of their demons, or lose her forever.Jackson's journey began in book 1 and concludes in book 3.
book 3
A Journey Home
Even on the calmest of roads, danger can lurk around every corner.After all that he's been through, Jackson Vane has everything he never knew he wanted. The memories are finally releasing their grip, his body is healed, love has filled his heart, and for the first time, he's living. The journey may be over, but sometimes, endings are beginnings in disguise. He has more to accomplish, more of himself to give, and even more to receive.Life as he knows it is about to change forever as Jackson's journey finally takes him back to Richmond, Virginia. But as experience has taught him, going home is never easy.
prequel novella (book 1/2)
A Journey Worth Taking
Sometimes love is worth the journey.WILL
No amount of military training could have prepared me for the chemical reaction that took over my body when I saw her for the first time. The second she set those emerald eyes on me, I knew I'd never be the same. But she's quick to remind me that she doesn't date. Well, me either, but that isn't stopping me from pursuing her like my life depends on it. The problem...I have only two days to convince her I'm not like the coward who broke her heart and what we could have is worth fighting for.SYDNEY
It took months to finally feel happy and secure after the last time my heart was stomped on. That's why fictional men are better than real ones. Am I right, ladies? No heart crushing activities possible. But just as my romantic side gets with this plan, in waltzes one very persuasive Marine, who exposes my weaknesses and shows me how a good man treats a woman. Although, none of that matters because he can't stay. And all real men, even those with real six-pack abs and dark chocolate eyes, are to be avoided. What I've rebuilt must be protected, no matter how tempting that one Marine may be.Continue Will and Sydney's journey in books 1-3 of The Journey Series (see trigger warnings).
Book 4 (COMING SOON)
A Journey Beyond
Finding love after loss sometimes takes a little guidance.There was one time in Sydney's life when she felt whole, good enough, loved. Although her relationship with Will lasted less than a year, it was everything. Now, she's a single mother, trying to give her son the life he deserves. It isn't easy, but she's always been independent and strong, and since losing Will, she's had more than a few opportunities to prove it. Especially when he appears and helps open her heart to Marine veteran Logan Carter.Logan is a wanderer, a loner, and a ticking time bomb. The last thing he needs on his conscience is casualties. Everyone stays safe so long as he keeps his distance and never gets attached to anyone or any place. But there's something about Sydney and her son that makes staying seem a little less dangerous. And neither of them can ignore the guiding light that insists on bringing them together.Recommendation: Read Sydney's backstory in A Journey Worth Taking (prequel novella) first. The series is best read in order: prequel novella, then books 1-4.Paperback link coming soon.
let's stay in touch
Newsletter Signup
Join my monthly e-newsletter mailing list. I'll keep you in the loop about upcoming book releases, sneak peeks, promotions, etc. as well as other fun bookish things. Let's be friends! Follow me on Instagram, Facebook, Goodreads and BookBub.
Please Leave a Review
If you read The Journey Series, please post a review on Amazon, B&N, Goodreads and/or BookBub. Reviews help authors and readers find each other and are especially important to new authors. If you post on Instagram or Facebook, please tag me! Thank you!